[GET] Oceans 14 The Great PPV Casino Heist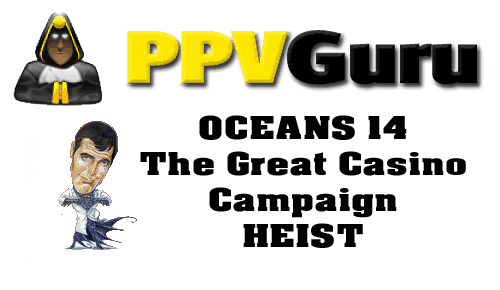 Before I start telling you about what this is – you must be aware that this is specifically for Leadimpact and Trafficvance. It does work on Mediatraffic but the landing page is built for the other two.
Ok so I am a marketer and promote other peoples offers and some of these offers are email submits which payout around $2.50 or £1.80 if you are from the UK. I did a little research into one particular offer and found they were spending around £10,000 a month on promoting it on one network. I then find out they are promoting this offer on about 10 networks which is quite a budget of £100,000 a month. Which to me is an insane amount to spend on just obtaining an email address.
So, I was promoting this offer on a few of my other landers such as landing page genius and the games guru and getting something like 100 conversions in no time. They paid me no problem so the quality was fine.
I decided to dig a little deaper into this offer and reverse engineered the WHOLE BUSINESS back to its bones and found that these email address were generating leads of up to £50 ( $75 ) and on a repeat business.
So why call it Oceans 14 – well just like the movie they stole the entire contents of a caisno. This is just the same. I have poduced an email submit offer that will generate the same income as the previous companies by duplicating their success.
This can be molded into any casino, poker, bingo, VERY HIGH PAYING OFFERs campaigns.
Why is this different? You will be promoting your own offer rather than filling the pockets of others. Instead of you getting paid £1.80 per email you will be turning that into the £50 leads.
We provide you with full instructions on how to set it up and a number of example offers. We also provide you with the landing page that fits perfect into a pop up that can be promoted in anyway you please. You can incentivize it or none incent its up to you! ITS YOUR OFFER!
So how would you like to be getting the big £50 ( $75 ) payout instead of the £1.80 for an email submit. I know for sure I want the £50.
This is not a normal landing page – its is the FULL BUSINESS on marketing these offers.
One thing to note with this is that you can not set it up in ten minutes like our other scripts and landers. This is the full package and will take you around a day to set it up. Once its set up you start promoting and making the BIG MONEY no more filling other peoples pockets.
Its YOUR TURN TO MAKE THE BIG BUCKS.
This just takes PPV to another level. You are climbing the tree of success with this product. REMEMBER ITS A FULL BUSINESS and NOT JUST A LANDING PAGE.