PPV – Starting from Scratch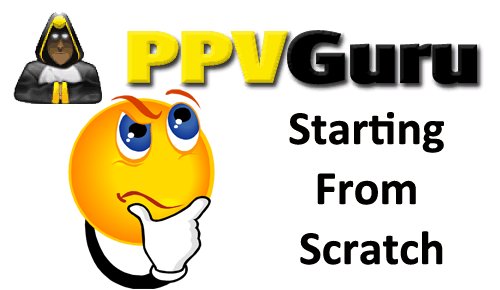 The Guru
Starting From Scratch
I was inspired to write this from a post from a couple of guys who asked this question to one of the users of ppvguru.com forum and I thought it may provide a quick route to success to some of you noobies if I provided my version.


Before I even knew what ppv was I was testing out an offer which was a download offer for something else I was running. This download installed the pop up software on one of my machines in the office which I hardly used. I was researching some payday loan campaigns to run on PPC via bing on this machine and as I typed into google the keywords for the payday loan a pop up appeared with the very offer I was about to promote. I was amazed at the potential this had. So I got to work. I did not even know it was called PPV at the time. So I tried to trigger another pop up which just would not come until I tried it a day later and the software was revealed.
I then did some research on the software as to where it came from and how I could utilise it. This did not happen overnight as in fact it was a trafficvance pop up which took me around 4 days to find out who the provider of the pop up was. I applied to them right away and got denied. GRRR!!!
I applied again!!! And again!! I got denied, time after time.
Now this is going back many years and I got very frustrated very fast. I left it for a week or so and then decided to research trafficvance alternatives and I discovered Leadimpact, Mediatraffic, DirectCPV.
I went through approximately 6 more months of losing thousands of dollars on campaigns that I thought would work and should work. I had the attitude of email submits – if I pop a Free NFL email submit offer on every NFL site I would be rich tomorrow. How could they not complete my offer as these shirts were like $50 at the time. How wrong was I?
Back to the drawing board I went.
My biggest problem was I did not realise how intrusive PPV pop ups actually are and that I really had to change every idea of marketing I ever had to get PPV to work.
It took me approximately 9 months after setting up my first campaign before I made a profit. One of the biggest problems I went through was I found 3 profitable campaigns and I relied upon these for an income. However, all 3 of these campaigns never paid out as the cpa networks went bust.
FIRST NOTE: DO NOT PUT ALL YOUR EGGS IN ONE BASKET.
This was the worst thing I ever did. I was hitting real good money until this happened. Ever since then even if I get a profitable offer I always share the traffic between 3 or 4 sources of the offer then if one company goes bust I am not going to lose my shirt.
I then decided to try and get offers direct so that dodgy cpa networks could not rape my money. This is extremely hard to do when you do not have much of a reputation. Every door I knocked on got slammed in my face. I then watched a documentary on a businessman from the UK who went from being a bankrupt failure to a multi millionaire and one of the richest men in Britain in just a few years. There were a few key points that stick with me to this day.
POINT 1: The guy said you will never get rich working for someone else.
POINT 2: I want to own everything that I use to generate money.
POINT 3: Replicating someone else's success – just do it better is the quickest way to make money.
Now why are these three points critical?
Point 1- The guy had a point I was sick of working for cpa networks who were ripping me left right and centre. I was sick of constantly checking my commissions to see if I had been scrubbed to death or not.
Point 2- He wanted to own every part of his business so he could control every element. This idea I liked very much.
Point 3- I always believe that no matter what I do, I can do it better than anyone else. This point to me is probably the most important.
So ultimately I concluded that creating my own offers was the way forward.
At this point you are probably too new to try this and I will address this for you at a later date on how you can do this and do it profitably. I have something almost ready to release to you that enables you to do this very thing.
Ok. Enough of the history lesson!
Let's answer the question –
What would I do if I was starting from scratch again.
Assuming I know nothing about PPV – My first point of call would be to download PPV Beginners Guide. I wish I had this when I started.
http://ppvguru.com/forum/index.php?action=downloads;sa=view;down=38
This ebook tells you all about PPV in basic terms. So even if you think you know about ppv this will teach you some little tricks on how it works.
Next I would download Guru Spy 2.0 http://ppvguru.com/forum/index.php?action=downloads;sa=view;down=5
The reason I would read this is so that I can find out what the BIG GUNS are running. When I say big guns I really mean BIG SPENDERS. These guys are eating up between 10 to 15% of pop up traffic and that costs a lot. Now you won't have the budget to finance these types of campaigns that you find as they require $$$$$ per day to make a profit.
However, it is good for you to know what is getting the most traffic and always check this method month after month as they change regularly.
Affiliate networks blown wide open – http://ppvguru.com/forum/index.php?action=downloads;sa=view;down=6
This is the one I really want to get me started. This enables me to spy on the traffic source of a particular offer or a particular network.
THIS IS GOLD DUST TO ME.
I know from guru spy 2.0 the name of the ppv servers so using affiliate networks blown wide open I can check offers and see if they are receiving ppv traffic. If they are then I am good to go or have a better chance of hitting a good offer from a network.
Now I have some good knowledge of what I am looking for. Now because you are a member of the ppv guru forum you have a massive head start on anyone in the game. You should head over to the Lazy PPV section and set up as many campaigns as I can. Go for the direct linking campaigns which are not a problem getting approved on mediatraffic and 50onred. Many of the dating campaigns are direct linking and many of the shopping campaigns are direct linking. Aim to set up minimum 10 campaigns and track the traffic. This will be your first lesson in optimization. Just because you are given the keywords and the campaign this does not mean that it has been fully optimized. Anything that looks like its burning budgets pause it as quick as you can. You really need to be quick with this. Keep your budgets to $5 a time once the $5 is spent check the keywords against converting keywords. Once you have done this a few times you will quickly find a profitable campaign. Be prepared to invest in data!
Once you have achieved 3 full months on ppvguru you will be granted to access to even more pure gold which I cannot discuss in this ebook as the details is contained inside the seasoned section. Once you get there – here are some of the unreal tips that will kill your competition and get you into huge money:
http://ppvguru.com/forum/index.php?topic=843.0 Ultra Keyword Competition Blaster
http://ppvguru.com/forum/index.php?topic=704.0 PPV Hidden Gems
http://ppvguru.com/forum/index.php?topic=581.0 Finding the Money
These 3 topics alone can turn you from a loser into a pure money making machine. To make the most of them you really should do the 3 months work on the earlier points before getting to these topics as you will be more confident in yourself and in how to use the information.
I am also a big believer in the fact that you never stop learning and so are many of the members. You will see many users stay with us even after the 3 months supervip as the industry changes and offers change, traffic changes and we work together as a community with one ultimate goal!
A big tip I keep telling people is read the older posts and not just the new posts on the forum. You will learn a lot and see how the users have progress over time.
One of the most important links on ppvguru is this one:
http://ppvguru.com/forum/index.php?action=search
It will take you to the search box which will find you almost anything to do with ppv on the forum.
If you are brand new these two posts are important:
http://ppvguru.com/forum/index.php?topic=1252.0 Just joined and Dont know where to begin.
http://ppvguru.com/forum/index.php?topic=261.0 Noobies start here.
Every day I get asked for a campaign to start with. My answer is always the same. If I told you all to do one particular campaign you would kill it. So here is my suggestion:
http://ppvguru.com/forum/index.php?topic=78.0
If you don't want to promote that one then you should go through the lazy ppv sections where there are over 400 campaigns for you to copy and paste. Don't forget to optimize them
I hope this cuts a few corners for you so you can jump straight in and start making some money.
All the best
The Guru