The PPV Games Guru 367% ROI – LEADIMPACT ONLY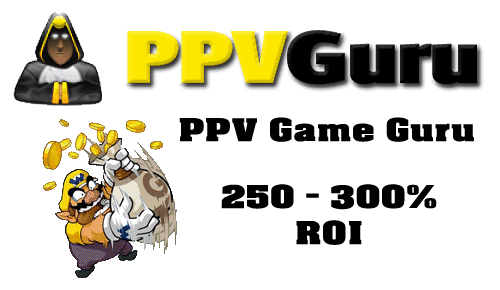 With this ebook I will show you how I turned 40,000,000 game players in to PPV profitable traffic. I will clearly show you how to find the games to target, the offers to pick, and the targets and urls that will fill your bank with money.
You will be able to set up multiple campaigns with almost unlimited traffic for your PPV campaign.
I will also give you a campaign that unleashes a torrent of avid players to complete offers for you. This campaign has been running for months without any competition and you can turn the traffic up or down depending on how successful your offers are.
To get some simple stats to show you I set up a campaign on Friday 21st June 2013 and ran it for 24 hours. It took me no more than 1 hour from start to finish to set up and research the campaign, create the images and find the targets. I tested around 6 offers within the cost I am about to show you. I kept the budget low as I know many of you are on a tight budget.
Cost of traffic: $36.93  ( This is an odd number as I was starting and stopping the campaign while I changed the offers if they were not converting )
Total Income from campaign: $135.81
Total Profit for the campaign $98.88
ROI 367%
The EXACT SCRIPT, KEYWORDS, TARGETS AND THE OFFERS USED ARE INCLUDED.
 Warning: You will be overwelmed with traffic!